WINNIE TRUONG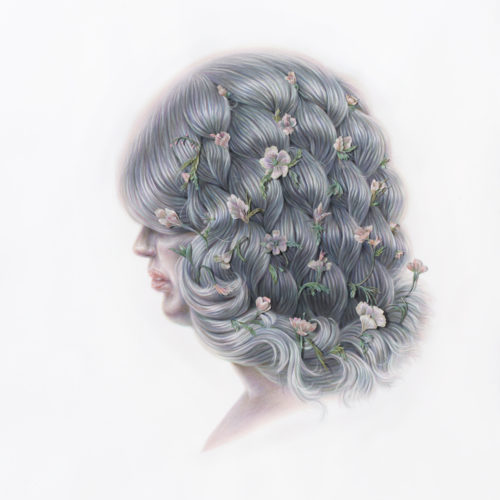 Winnie Truong explores the naturalness of female form. Expanding upon a dedicated drawing practice, her latest body of work, Perennials, integrates coloured pencil crayon and cut paper collage in the rendering of surreal imagery and fictional narrative.
Continuing an overarching interest in the distortion of beauty, Truong's latest series specifically considers representation of the idealized female form in relation to nature. Perennials captures women poised in settings of fantasy foliage and flora, merging with the plant-life itself. Featured throughout are her self-named "wimmin creatures"; mythical hybrid forms described as part-plant, part-woman. Drawing parallels between anatomy, botany, grooming and landscaping, each piece depicts a narrative inspired from nature, personal history and the broader female experience.
Winnie Truong graduated with a Bachelor of Fine Arts from the Ontario College of Art and Design (2010) and has received numerous grants and awards including the W.O. Forsyth Award, the 401 Richmond Career Launcher Prize, and the BMO 1st! Art award. Her work has been the subject of solo exhibitions in Canada, the United States, and Europe. She was also recently included in the acclaimed group exhibition "The Sunshine Eaters" at the Ontario College of Art and Design. Her work is represented internationally in private and public collections including the Doris McCarthy Gallery at the University of Toronto, The Nerman Museum of Contemporary Art, Kansas, and the Bank of Denmark, Copenhagen among others.
Winnie Truong gratefully acknowledges the support and funding of the Canada Council for the Arts for this exhibition.