SERENA BEAULIEU
20 SEPTEMBER – 02 NOVEMBER 2019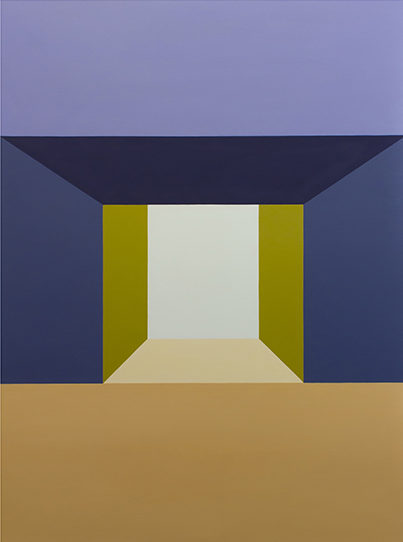 Still in the early stages of her painting career, Canadian artist Serena Beaulieu is quickly gaining recognition for her skilled and considered art practice. Graduating in 2017 with a Bachelor of Fine Art degree from Concordia University, Montreal, Beaulieu quickly earned representation with one of Canada's most prestigious commercial art spaces, Galerie Rene Blouin, Montreal. In addition, she was recently included in a group exhibition at Division Gallery, Toronto, a collaboration between Division and Rene Blouin. VIVIANEART is proud to add Beaulieu to our roster of artists and introduce her to Calgary with a solo exhibition of all new works.
Serena Beaulieu investigates the effects of color and form on visual perception. Through a skillful execution of clean hand-painted lines, bold use of color and simplistic geometric constructions, she merges her strong interest in formalism with an architectural style. Beaulieu is informed by her own inner-city surroundings, experimenting with scale and depth to emphasize the three-dimensionality of her forms.
Utilizing not only the front of the support, but also the painting's sides, she creates subtle illusions that emphasize the three-dimensional quality of the painted shapes or physical aspects of the panel itself. At the same time she subverts this emphasis by flattening the shapes, using inexact ratios/or by leaving traces of the wooden support unpainted.
This exhibition pairs her paintings with a collection of works on paper that she describes as a methodology or an alphabet of her visual language.
"Each drawing is an examination of the paintings: an isolation of the painted shapes into a single space (the sheet). I used to think a lot about gestalt psychology, and now I am thinking that if "the whole is other than the sum of its parts" then each part must be other (and as interesting) than the whole."
-Serena Beaulieu
PRESS
"Première exposition solo pour l'artiste Serena Beaulieu à Calgary", CBC RADIO-CANADA, Lyssia Baldini, 2019