Sandra Meigs with Christopher Butterfield
"THE WARBLERS"
26 FEBRUARY TO 14 APRIL, 2022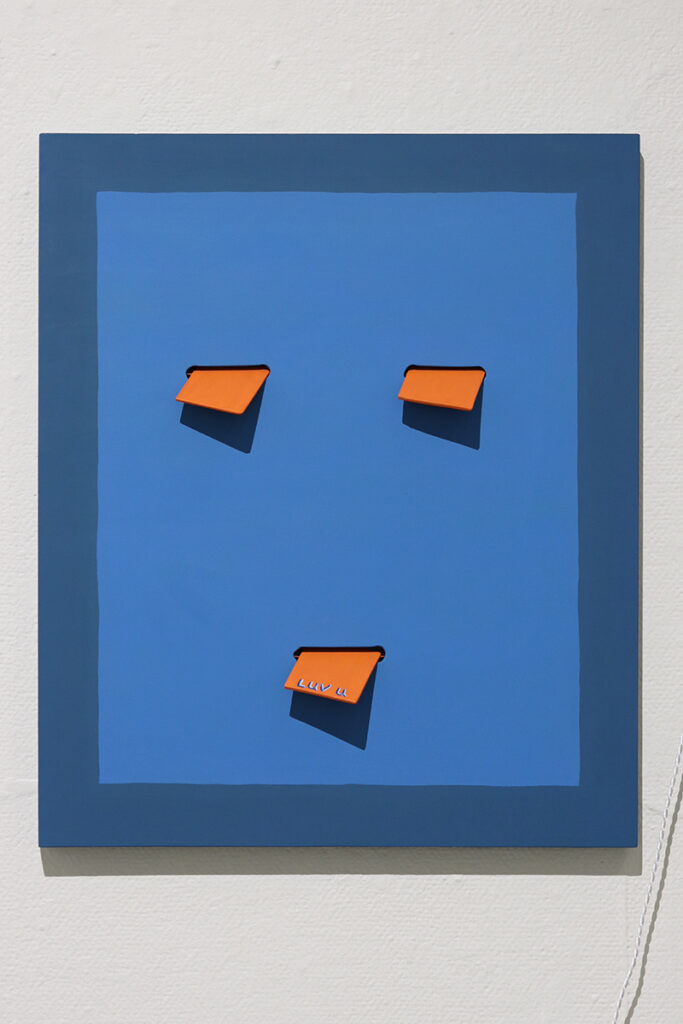 "In the Warblers we join a group of small demurely anthropomorphized paintings, with jingling red alter egos that draw us into an interpretive spin cycle. They look simple but they are quietly disassembling both our expectations of an artwork and how we perceive it." – Helen Marzolf
VIVIANEART is pleased to present The Warblers, a collaborative series of works by visual artist Sandra Meigs and musician/composer Christopher Butterfield.  This installation of art and sound continues a collaborative history for the duo that spans more than a decade. Meigs and Butterfield describe these playful, colourful paintings as beings with flirty eyes, broad flat faces, and voices in the form of jingles and words: PLEASE, HOLD ME, STAY, ASK ME OUT, LUV U.
These paintings continue Meigs'  use of slapstick and her generously transparent exploration of yearning for contact and connection, a consistent theme throughout her lengthy career. Butterfield's compositions in the form of ringing bells, set Meigs' captions to music.  In the words of the artists, "The Warblers were born in a pandemic, when we were all in our little cocoons full of mournful yearning for contact with others. The bells are ringing. Do stay and take the call."
– – – – – – – –
Sandra Meigs completed her Bachelor of Fine Arts degree at the Nova Scotia College of Art and Design and went on to complete her Master of Philosophy at Dalhousie University. She taught art at the University of Victoria for 25 years. Since her retirement from teaching, she moved to Hamilton, Ontario where she lives and works.  In 2015 Meigs was the recipient of a Governor Generals Award in Arts. That same year she was awarded the Gershon Iskowitz Prize in Visual Art. In 2017 she was named a Fellow of the Royal Society of Canada. She has been featured in numerous exhibitions including a 2017 solo presentation entitled Room For Mystics at the Art Gallery of Ontario. Her work is in the collections of The National Gallery of Canada, Ottawa, The Art Gallery of Ontario, Toronto, Musée d'Art Contemporain, Montreal and the Canada Council Art Bank among others.
Christopher Butterfield is a composer and occasional performer. Recent works include creating the sound installation for artist Sandra Meigs' exhibition Room for Mystics at the Art Gallery of Ontario in 2017; Short Room, for two ondes Martenot, horn and strings (2018); and 1710 ½, for left-hand piano solo (2019). His complete settings of Jacques Prévert's Contes pour enfants pas sages with projected illustrations by Sandra Meigs was premiered in Toronto in 2012, where he also sang Erik Satie's Socrate the same year. His translation of three plays by Paris dada Georges Ribemont-Dessaignes was published in 2015. Christopher Butterfield teaches in the School of Music at the University of Victoria, BC