WILLIAM KENTRIDGE/ROBIN RHODE
12 SEPTEMBER to 25 OCTOBER 2014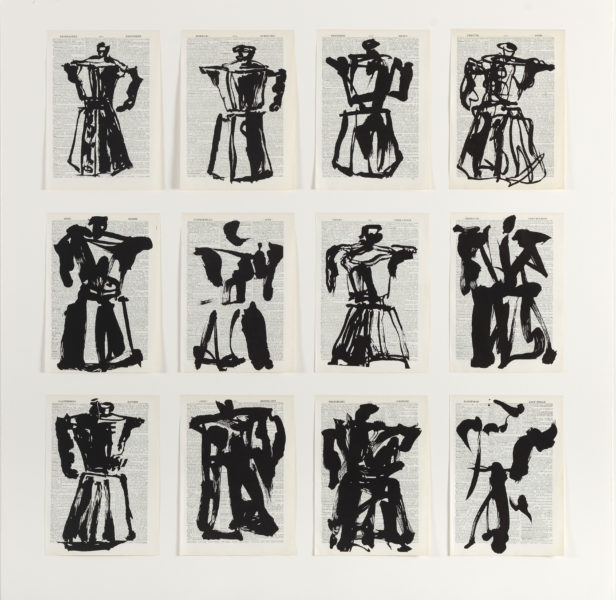 We are proud to present the work of South African artists William Kentridge and Robin Rhode. Separated by two generations, Kentridge and Rhode share certain affinities in their artistic practice. Drawing, erasure, illusion and performance play a key role in their respective production. This exhibition pairs iconic works from each artist's oeuvre in ways that resonate as powerful allegories imbued with political and social commentary.
Born in 1955 in Johannesburg, William Kentridge witnessed one of the twentieth century's most contentious struggles, the dissolution of Apartheid. Known for his prints, drawings and animated films, Kentridge contrast old ideals with new desires in post-Aparthied South Africa. His work has been exhibited widely including the Tate Modern, the Louvre, the Centres Pompidou, the Hirshhorn Museum, Sculpture Garden, and the Palais des Beaux-Arts in Brussels. He has participated at the Venice Biennale and has been the recipient of numerous prizes including the Kyoto Prize and the Carnegie Prize.
Born in Cape Town in 1976, Robin Rhode is celebrated for his highly inventive performance-based videos and photographs. Using the street and outdoor urban settings as his "canvas", Rhode creates work through the consecutive act of drawing, erasing and photographing. While embodying a whimsical quality, the works possess an underlying commentary that alludes to socio-political issues and urban poverty in South Africa. Rhode has had solo exhibitions at the Haus der Kunst, Germany and Hayward Gallery, London. He has exhibited at The Wexner Center for the Arts, Ohio; Los Angeles County Museum of Art, and the Museum of Modern Art. He has also participated at The 51st Venice Biennale (2005), and the 2012 Sydney Biennale.