TYLER BRIGHT HILTON
4 NOVEMBER 2016 TO 7 JANUARY 2017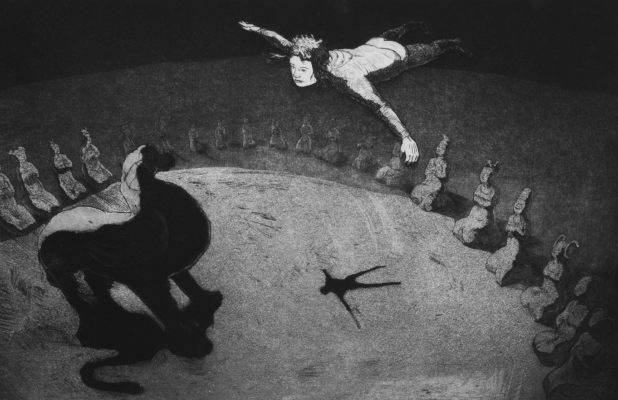 Canadian artist, Tyler Bright Hilton, has produced an expansive, ongoing fictional narrative. His practice considers universal issues of anxiety, insecurity, and self-identity, explored through a surreal coming-of-age story about an unusual character, Minmei Madelynne Pryor.
A skilled draftsman and printer, Hilton uses traditional media in the creation of works that are presented episodically as a contemporary graphic novel.  His first exhibition in Alberta, this solo show features the first print series of this narrative, "Minmei Madelynne Pryor Went into the Dryer", alongside related watercolour, gouache, and silverpoint drawings.
Hilton received a BFA from the Ontario College of Art and Design, Toronto, and an MFA from the Chelsea College of Art and Design, London.  His work has been exhibited within Canada and internationally, and is represented in the public collections of the Montreal Museum of Fine Arts, Montreal, and the Archive of Modern Conflict, London, as well as numerous private collections of note.
To read "Brick Layers", an article on Tyler Bright Hilton by Robert Enright in Border Crossings Magazine, click the link below.