AIDA MULUNEH
13 JANUARY TO 25 FEBRUARY 2017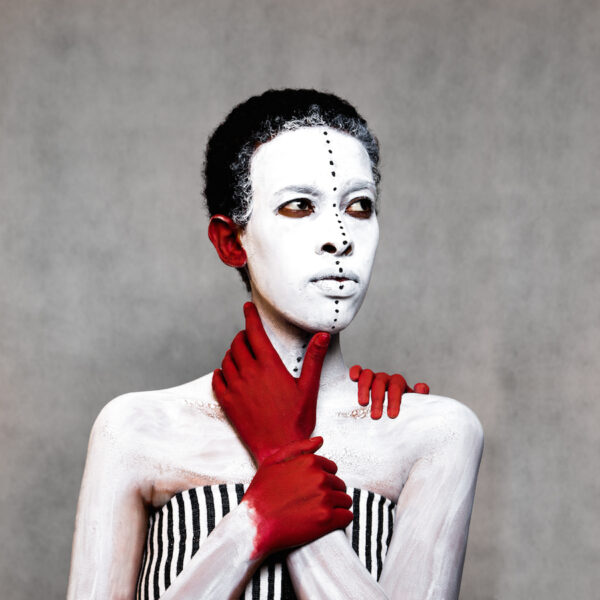 Aida Muluneh explores the varying aspects of her identity through her photographic practice. Having lived experience in Ethiopia, Yemen, Canada, and the United States, Muluneh's autobiographical portraits reveal a diverse scope of visual and cultural influences. Using bold color and striking graphics, her photographs integrate elements of traditional African face painting, religious iconography, social history and her personal impressions of the differences between her Ethiopian birth-land and Western society. The first solo showing of Muluneh's work in Canada, this exhibition presents select artworks from "The World is Nine" and "99 Series" of photographs as part of Alberta's Exposure Photography Festival.
Aida Muluneh was born in Ethiopia and spent her childhood and adolescent years between Canada and Yemen, including spending her high school years in Calgary, AB. Following her post-secondary education and early professional experience in the United States, she returned to Ethiopia in 2008 where she currently lives and works. Strongly committed to her roots, Muluneh is founder of the Addis Foto Fest, Ethiopia's first biennial exhibition of photography, and founder/developer of the DESTA organization (Developing and Educating Society Through Art), which focuses on encouraging cultural development through creative exchange.
Muluneh holds a BFA in film, radio and television from Howard University in Washington. D.C. Her work has been exhibited internationally and may be found in the permanent collections of the Smithsonian's National Museum of African Art, Washington D.C; the Museum of Biblical Art, Dallas; and the Sindika Dokolo Foundation, Berlin among others.
IMAGES COPYRIGHT AIDA MULUNEH, COURTESY OF DAVID KRUT PROJECTS