LAURA ST. PIERRE
17 JANUARY – 29 FEBRUARY 2020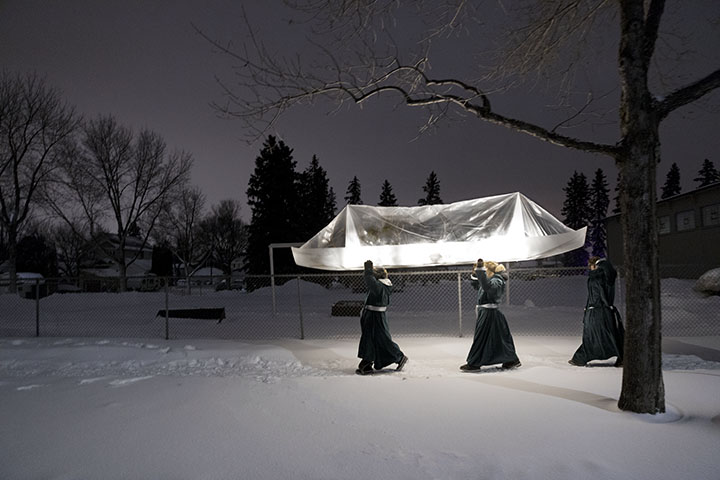 Canadian artist Laura St. Pierre explores her relationship with the natural environment through a multidisciplinary art practice that includes installations, sculptures, photography and public works. Through her practice, ignored derelict spaces become richly transformed through enlivened interaction with the landscape.
On view at VIVIANEART, 17 January thru 29 February 2020, St. Pierre's newest series of photographs, The Sowers, depicts interventions in the urban landscape. These are comprised of small gardens that thrive in unlikely places, such as parkades or pool decks, devoid of life other than what the Sowers have introduced. Lighting transforms the landscape and creates intimate spaces. Other signs of human, plant, and animal life are absent, sowing confusion about what we are seeing: is this the past, the present, or a dystopian future? For the first time, a figure appears in St. Pierre's work, as we catch glimpses of the character that plants and tends the rag tag gardens.
St. Pierre's work has been exhibited throughout Canada including presentation in "Another Landscape Show" at the Art Gallery of Alberta in 2019 and the Alberta Biennial of Contemporary Art in 2013. She has been featured in solo exhibitions at AKA Artist-Run, Saskatoon; Gallery 44 Centre for Contemporary Photography, Toronto among others. St. Pierre has earned Bachelor degrees from the University of British Colombia and the University of Alberta, and completed a Master of Fine Arts degree at Concordia University in Montreal. She currently lives and works in Saskatoon, Saskatchewan. Her work is in the permanent collections of The Dunlop Gallery, Regina, the Saskatchewan Arts Board, the Alberta Foundation for the Arts, and the Art Gallery of Alberta.
Reception + Artist Talk: 08 February, 2020
Laura St. Pierre would like to acknowledge the support of :
Canada Council for the Arts

Saskatchewan Arts Board
Conseil Culturel Fransaskois
This exhibition also made possible through Creative Saskatchewan's Craft and Fine Art Production Program
PRESS