HAND PIC'D 2019
ALYSSA ELLIS + ADRIANE VANT ERVE + JESSIE FRASER
27 JUNE – 29 AUGUST 2019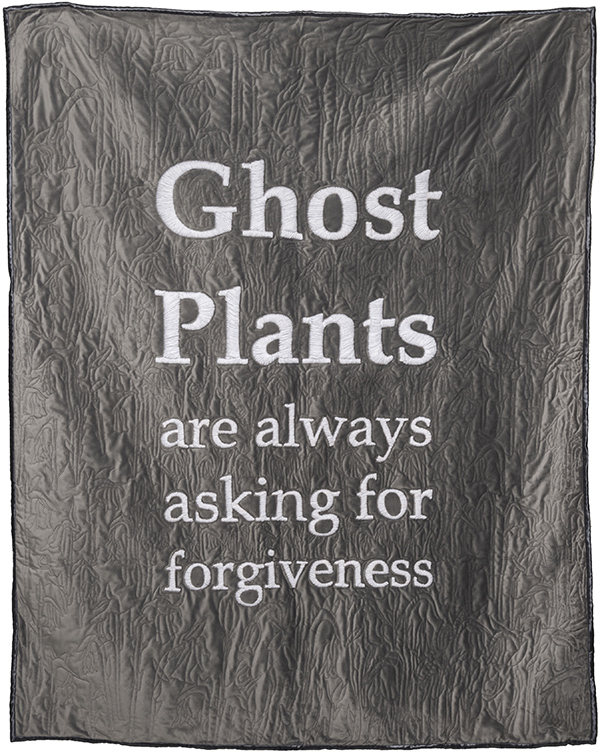 The 6th edition of our annual invitational exhibition, HAND PIC'D, continues a precedent of celebrating emerging artists and recent graduates within the local Calgary arts community.  Presenting works by Alyssa Ellis, Adriane Vant Erve and Jessie Fraser, HAND PIC'D 2019 features three artists who are using fibre as a key element in their visual art practice. While voicing their own unique narratives, each creates tactile pieces with references to the domestic.
Since completing her Bachelor of Fine Art degree at the Alberta University of the Arts, Alyssa Ellis has embarked on a constant ongoing, revolving and dissolving love affair with botanical life forms. Alyssa and her plant collaborators work together, play together and by all means narrate together in order to further develop their complicated relationship. While multidisciplinary in nature, the experimental research of their stories fluctuates between textiles, drawing, performance and installation. She currently participates yearly as an exhibition leader of the Ayatana Germinate residency in Ottawa, Ontario.
The silk-screened prints and stitched silk sculptures of artist Adriane Vant Erve are skillfully rendered explorations of texture and transparency. Her ghostly organic forms are eerie reminders of our own fragility and imperfections. Adriane recently completed a Bachelor of Fine Art degree at the Alberta University of the Arts. She adds this accomplishment to her previously completed Bachelor of Interior Design from the University of Manitoba. She also spent time living in Sydney, Australia, and attended the sculpture program at the University of Sydney.
Jessie Fraser is a weaver; she weaves not only with thread but historic narratives and atmospheric feeling. Her practice is informed by poetry, collected photography, overlooked techniques and aims to create felt experiences. Using time as both a process and a material, Jessie's practice utilizes both weaving and jacquard assisted weaving to construct narratives based on concepts of past and present, in an attempt to hold on to, recreate or lay to rest physical and emotional memories. She recently completed a Master of Fine Art degree from the Alberta University of the Arts.
PRESS