GO BIG
JULIE BEUGIN, JASON DEARY, KIM DORLAND, SCOTT EVERINGHAM, SANDRA MEIGS, ERIK OLSON
21 JULY THRU 03 SEPTEMBER 2023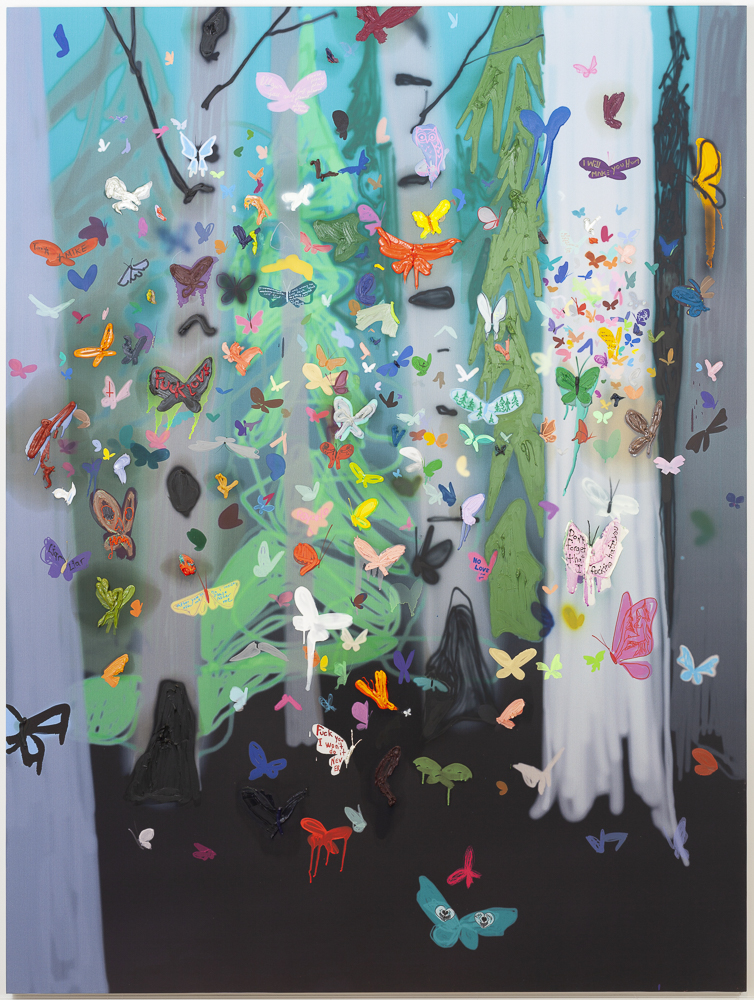 KIM DORLAND, BUTTERFLIES, 2017, OIL AND INK ON POLYESTER, 96"x 72"
VIVIANEART is proud to present "GO BIG", a group exhibition of large scale paintings featuring artists; Julie Beugin, Jason Deary, Kim Dorland, Scott Everingham, Sandra Meigs, and Erik Olson. While each of these artists works at varying scales, there is something specific and unique about the impact of their pieces when they go big.
These paintings invite the viewer to enter the work in a more physical way, their size allows for a greater visual presence. The immersive experience of the works can elicit strong emotional and sensory responses, different from their more intimate, smaller scale counterparts.
Drawing inspiration from memory, photography, imagination, and their collective experiences, the artists in "GO BIG" invite us to delve into their artistic processes and explore the content of their individual practices.
Julie Beugin's paintings capture the subtle nuances of urban environments. Beugin finds inspiration in the generic elements of her surroundings, in the edges and quieter parts of the city. Her own photographs of these details are the source material of her paintings. Ultimately, these images become radically transformed through collage and layered abstraction. Beugin completed a BFA at Emily Carr University of Art and Design in Vancouver and an MFA in Painting and Drawing at Concordia University in Montreal.
Jason Deary's acrylic paintings play with the aesthetics of photography, prints and documentation. To make these works he creates acrylic skins or sheets, silk screening onto some and painting into others. These skins are ultimately collaged onto the painting's surface. Deary completed his BFA at the University of Windsor in 2010 and participated in The Banff Centre Work Study program from 2011 to 2012 before completing his MFA at OCAD University in 2014.
Kim Dorland, has established himself as a key contributor to contemporary painting, actively investigating its expressive and narrative potential and the physicality of paint. The subject of Dorland's work is rooted in personal experience. His autobiographical images explore a range of subjects including the figure, natural landscapes and urban environments. His images are given physical form through his uniquely maximal approach to paint application. Energetic gesture, florescent pigment, and thick impasto surfaces define Dorland's signature style. Dorland holds a BFA from the Emily Carr Institute of Art and Design and an MFA at York University in Toronto, Ontario.
Scott Everingham's paintings exist between abstraction and storytelling. Fictional narratives inform the structure of his works that ultimately develop into immersive abstract spaces. His paintings record a thoughtful process involving the manipulation of color, gesture and the physicality of paint. A three-time finalist in the prestigious RBC Canadian Painting Competition (2009, 2010, 2013), Everingham holds a BFA from the Nova Scotia College of Art and Design and an MFA from the University of Waterloo.
For more than 35 years, Sandra Meigs has been creating paintings and sculptural works that combine dense narratives with comic elements, hinting always toward multiple meanings. With talent at her craft that is beyond question she ventures into unexpected arenas, always steeped with human experience. She holds a Bachelor of Fine Arts degree from the Nova Scotia College of Art and Design and a Master of Philosophy from Dalhousie University.
Erik Olson is known for his authentic visual language, combining figurative and abstract elements with bold, vibrant colors. Drawing inspiration from singular fields of color, his paintings evolve through direct brushwork, layout, and subject matter. Olson holds a bachelor's degree from Emily Carr University of Art + Design (2007) and studied as a guest student of renowned artist/professor Peter Doig at Kunstakademie Düsseldorf (2014-2015).