"IN THE TREES"
2 MARCH – 14 APRIL 2018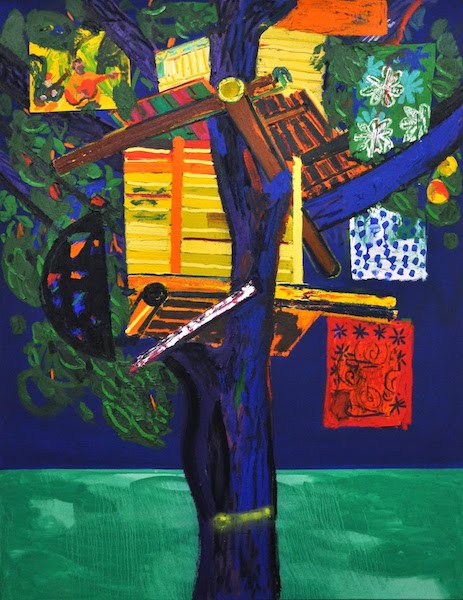 "…anyone who wants to see the earth properly, must keep [oneself] at a necessary distance from it."
–The Baron in the Trees, 1957
 Erik Olson's latest body of work, "In the Trees", brings together a group of new paintings and related sculptures. The central theme of this solo exhibition develops from Olson's interest in the natural environment, specifically as a temporary site of refuge.
 Inspired by Italo Calvino's 20th century novel, The Baron in the Trees, Olson considers a particular form of escapism granted by a withdrawn existence in the forest. His resulting paintings and sculptures depict these provisional dwellings, their inhabitants and the surrounding plants and animals in characteristically vivid colour. Contemplating the experience of voluntary seclusion, Olson's works capture the beauty in details so often overlooked in the hectic climate of contemporary society.
Erik Olson graduated with a Bachelor's Degree from Emily Carr University of Art + Design, Vancouver (2007) and attended the acclaimed art academy, Kunstakademie Düsseldorf (2016). Olson has been the subject of solo exhibitions in major cities across Canada and internationally in Europe and the United States. He currently lives and works in Düsseldorf, Germany.