Diane Landry
15 SEPTEMBER  –  28 OCTOBER, 2017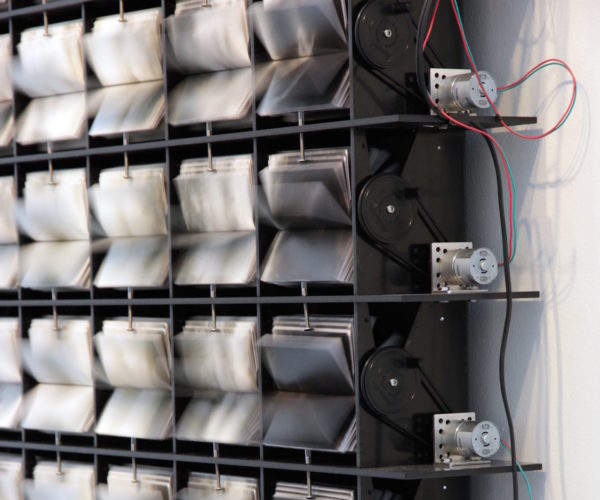 Diane Landry explores the relationship between light, sound, and motion. Utilizing a self-taught technical skillset, Landry transforms everyday objects into beautiful and visually engaging artworks.
Light sculptures from Landry's Mandala series and two of her most recent kinetic installations are presented in this solo exhibition at VIVIANEART. One of the featured artworks, Fall, animates an image of a waterfall in perpetual motion using a uniquely constructed flip-book panel. The sculpture draws connection between natural and mechanical forces; two areas of interest that motivate Landry's ongoing artistic investigations.
We are pleased to present this exhibition with BEAKERHEAD, Calgary.
Landry has exhibited and performed widely throughout Canada and internationally. Her work was included in the internationally touring group exhibition, 'Oh, Canada' (2014/15), and recently in the 2017 Quebec Biennial of Art (2017), and Biennial panOramas, Bassens, France (2016). Landry's works can be found in numerous public and private collections and she has been the recipient of multiple awards, grants and distinctions, including the Giverny Capital Prize and the prestigious John Simon Guggenheim Fellowship in 2015. Landry currently lives and works in Quebec City.