Alana Bartol with Bryce Krynski
"FORGETTING FIELDS"
05 AUGUST – 11 SEPTEMBER, 2022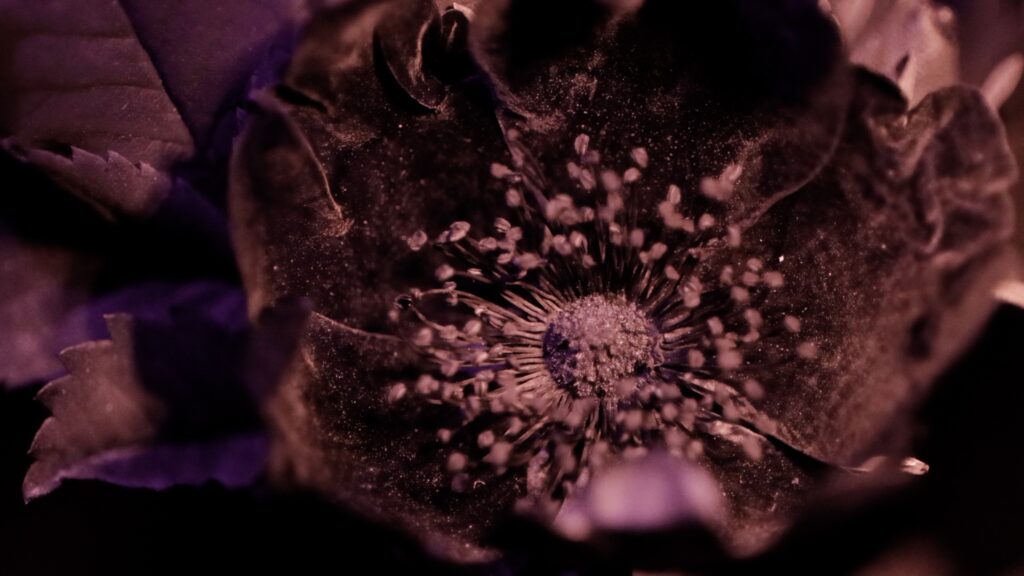 Through collaborative and individual works, environmental artist Alana Bartol creates relationships between the personal sphere and the landscape, particular to this time of ecological crisis. VIVIANEART is pleased to present "Forgetting Fields" an exhibition of new works by Bartol in collaboration with artist, Bryce Krynski.  Krynski brings a strength in video work and photography to the creation of the exhibition's central piece, all roses sleep (inviolate light), an olfactory video and accompanying still images. Shot using ultraviolet video, visitors are invited to see the prairie landscape from a bee's point of view and a scratch and sniff card expands on the pleasant and pungent experience of pumpjacks, grazing cattle, prairie grasses and wildflowers. As the solitary bee searches and dreams of a rose, the work is meant to conjure questions about our shared future.
An additional video work, Forgetting Fields II, and drawing series, Forgetting Fields I, furthers Bartol's conversation, punctuating her exploration of our footprint as beings and consumers of the land. In these process-based works, fire and water become active collaborators through their use in both the creation and dissolution of imagery. In Forgetting Fields I, native prairie grassland plants of Alberta are painted using cow's milk. Initially invisible, the images are carefully revealed using the flame of a candle. In Forgetting Fields II, drawings of plants dissolve in water. The water destroying each image in unpredictable ways. Many of the drawings re-form as if by magic, speaking to a process of restoration, natural cycles of renewal and growth, and the intelligence of plants.
Bartol completed her B.F.A at the University of Windsor (Canada) and her M.F.A. at Wayne State University (USA). Bartol's work has been presented nationally and internationally at Esker Foundation Project Space, PlugIn ICA, Latitude 53, Access Gallery, Walter Phillips Gallery, amongst others. In the summer of 2020, she participated in an artist residency with the University of Lethbridge Art Gallery, where a solo exhibition, Processes of Remediation: art, relationships, nature, was subsequently presented in 2021. She currently lives and works in Mohkinstsis (Calgary) where she teaches at Alberta University of the Arts. In 2019 and 2021, she was longlisted for the Sobey Art Award representing Prairies and North. Her work is in the permanent collection of the Art Gallery of Alberta, Edmonton; the Alberta Foundation for the Arts; RBC Art Collection; Scotiabank Art Collection, and City of Calgary Public Art Program.
Bryce Krynski was born in Winnipeg MB, to parents of Mennonite and Polish descent, and currently lives and works in Mohkínstsis (Calgary, AB) in Treaty 7 territory. He found his way to photography as medium of expression and spent 10 years making images for national magazines and news outlets. The experience of producing images for assignment work led him to focus on what was happening behind the story, specifically what was excluded from the frame. A love of discarded scenes and overlooked materials are interwoven with themes of humour and being able to laugh in the face of personal misfortune. Bryce's work makes use of photography, video, new/archival/found images, digital manipulation, historical food narratives, found objects, and a desire to see in new ways, with a goal of establishing new stories out of this process. Bryce's work has been published and shown internationally and is part of the Alberta Foundation for the Arts and Bow Valley College collections. He is represented by Christine Klassen Gallery in Calgary, Alberta.