Adrian Norvid
"SOFT SERVE"
18 JUNE – 31 JULY, 2022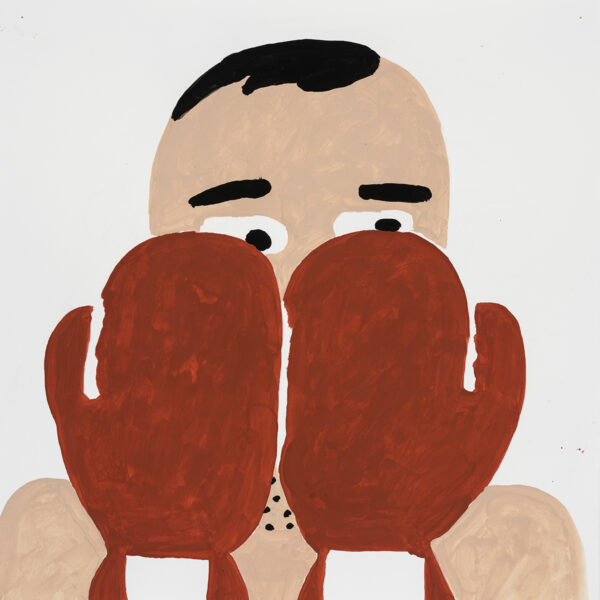 VIVIANEART is pleased to present Soft Serve, a solo exhibition of drawings by Adrian Norvid. Born in London, England, Norvid now lives in Montreal where he teaches at Concordia University. Within the walls of his studio, he works to create immersive environments that betray his intense intellect and wacky sense of humor. Comprised of large-scale drawings, massed hangings of smaller poster size pieces and paper sculptures, his installations are packed with visual imagery and possessed of a sort of Rococo impulse that leans towards patterning, excess and distortion.
His sources are varied and include retro children's books, vintage graphic design and typography, packaging, logos, and a nod to the Japanese "Superflat" movement. His approach to both content and process denies pretence. His choice of materials is humble, paint, paper, flashe (vinyl) and Tyvek. The resulting pieces are both approachable and challenging, a testament to Norvid's self-admitted preoccupation with non-sequiturs, inappropriateness, cheek, shabbiness and disorder.
The central piece in this exhibition is a massive 25-foot long brush drawing, Soft Serve Penitentiary. A cutaway view of a comic prison, the piece is derived in part from a slapstick prison scene from a 1917 Ernst Lubitsch film, The Merry Jail. "In my version, raccoons, foxes, owls and ravens are outfitted as jailers and are occupied drinking and partying hard with the human inmates. The prison walls function as a sort of drawing within the drawing – they are covered with crude graffiti, cartoons, slogans, marks and palimpsests. The content of the drawing is an associative mass of iconic, kitsch jailhouse imagery and cross species hi-jinks."
– – – – – – – – – – – – – – – – – – – –
Norvid received his MFA from York (Toronto) and has a BFA in Music also from York. He has shown widely in Canada including solo shows at Galerie B312 (Montreal), AXE Neo7 (Gatineau), Mussee D'Art De Joliette (Joliette), AKA (Saskatoon) and Julia Garnatz (Cologne.) Norvid's traveling exhibition Showstoppers, Whoppers, Downers and Out of Towners traveled to the Rooms (Newfoundland), The McIntosh Gallery (London Ont.), The Robert McLaughlin Gallery (Oshawa) and the Art Gallery of Windsor (Windsor, Ont.). Group exhibitions include Installations: On A Large Scale at the Musee national des beaux-arts du Quebec (Montreal), The Quebec Triennial at The Musee d'Art Contemporain de Montreal, Jessica Bradley Art and Projects (Toronto) and L'Oeil De Poisson (Quebec City.)
Adrian Norvid's works are in the collections of the Musee D'Art Contemporain De Montreal, la Musee National Des Beaux Arts Du Quebec and the Colart Collection.
PRESS
"Adrian Norvid: Eccentric drawings served up soft", GALLERIES WEST, Lissa Robinson, 2022